Internationally Recognized & Accredited |Quantity Surveying Courses| Registered Training Provider In Dubai Since 1995 | Enquire Now @+971-42809955 |
Internationally Recognized & Accredited |Quantity Surveying Courses| Registered Training Provider In Dubai Since 1995 | Enquire Now @+971-42809955 |
STUDY MODE
Online / On Campus
DURATION
2 Year / Fastrack
Introduction To Quantity Surveying
This course is intended for both graduates with a background in real estate, architecture, engineering, construction, as well as non-graduates who are currently employed in construction or who want to take  excellent job opportunities in the industry but do not have a degree or any relevant experience.
Any graduate who wants to become a quantity surveyor can enroll in the Quantity Surveying program from #UAE leading technical training institute, ASTI Academy. The training will also give graduates and professionals in related fields—such as architecture, engineering, and construction—the knowledge they need to lead the industry in project cost management. As the industry changes and innovates, you will gain the knowledge and abilities necessary to meet the challenges.
Apply Now
Why choose Quantity Surveying?
Higher International diploma in quantity surveying from ASTI Academy, dubai will enhance your abilities in cost and commercial management, whole-life costing methodologies, law and contract, risk modeling, project management, sustainability, business growth, and critical thinking, problem-solving, and team collaboration.
The program offers opportunities for graduates from various backgrounds, including those from the UAE and other foreign countries, those with little exposure to the built environment, and  those who are seeking mid-career advancement in a specialty field of quantity surveying. Our quantity surveying courses are in high demand and have landed jobs with numerous businesses in the UAE and internationally.
Why Choose ASTI For Quantity Surveying Programs ?
UAE Govt Accredited Courses
ASTI Academy is recognized & accredited by Government of Dubai, KHDA, Ofqual, and multiple global educational legal bodies.
Preparation For The Industry
ASTI provides its students with the opportunity to gain real world experience through internships, co-op programs etc
Placement Assistance
Acquire desirable employment skills by choosing the placement option willl provide access to an industrial placement.
Highly Qualified Instructors
ASTI provides world class learning experience to its students with access to exceptional mentorship and guidance with focus on hands on learning!
Flexible Schedule
ASTI offers flexible learning experience to improved work-life balance ,increased productivity, and greater access to education!
Guaranteed Career Growth
ASTI courses offers its learners the opportunity to develop new skills and thereby paves a clear path for career growth and take control of your career success!!
| | |
| --- | --- |
| Qualification Title | Higher International Diploma In Quantity Surveying |
| Qualification Level | UK Level 5 |
| Accreditation status | Accredited |
| Credit Equivalence | 240 Credits |
| Recognition | Globally Recognized |
| Unit Code | Unit Title | Credits |
| --- | --- | --- |
| CUP001 | Technical Drawings with Engineering Graphics | 12 Credits |
| CUP002 | Workshop and General Safety | 12 Credits |
| CUP003 | IT Application for Engineers | 12 Credits |
| Unit Code | Unit Title | Credits |
| --- | --- | --- |
| QEP001 | Construction Economics | 12 Credits |
| QEP002 | Project Management | 12 Credits |
| CEP003 | Applied Mathematics for Civil Engineering | 12 Credits |
| QEP003 | Civil Estimation and Costing | 12 Credits |
| QEP004 | Contract Practice | 12 Credits |
| QEP008 | Sustainable Design and Construction | 12 Credits |
| QEP009 | Risk and Value Management | 12 Credits |
| Unit Code | Unit Title | Credits |
| --- | --- | --- |
| QEP005 | Interpersonal Project | 15 Credits |
| QEP006 | Environmental Science and Services | 15 Credits |
| QEP007 | Procurement and Administration | 15 Credits |
| QEP011 | Measurement and Documentation | 15 Credits |
| QEP014 | Financial Cost Management | 15 Credits |
| QEP015 | Construction Technology | 15 Credits |
| Unit Code | Unit Title | Credits |
| --- | --- | --- |
| SU001 | Project | 30 Credits |
Who should enroll in the quantity surveying course?
Students/Learners with Age 18 & Above.

Highschool qualifications (O Level / A levels/ 12th)

English Language Proficiency

Also, refer to the RPL guide to know more about exemptions (for working professionals only).
How To Apply
Please fill out the application form here to apply for the Government of Dubai Accredited Higher International Diploma In Quantity Surveying from ASTI Academy, Dubai.
Enroll Now
ASTI technical training institute is a vibrant and multicultural institute in the heart of Dubai. Every year, we receive a large number of international students; at the moment, our student body includes people from more than 63 different nations.
Our Recognition & Accreditation
ASTI Academy is Recognized & Accredited by the Government of Dubai, KHDA,  Ofqual, and multiple global educational legal bodies, proving government-approved vocational educational qualification programs in Dubai.
Satisfied Students & Their Stories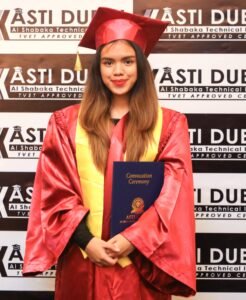 "During my studies at ASTI, all of the teachers were really helpful and friendly. They have deep knowledge in their respective fields and their teaching method is also very good. There are no examinations, and we get our credit scores based on our assignment which is a great initiative.
"At ASTI, I had the chance to engage in various practical and theoretical practices. The professors here are really helpful as always and the units were thought well. I would recommend this institution to anyone who has the passion and interest in becoming a valuable individual in life.
Be Future Made With ASTI Dubai!
CANDIDATES WHO WANTS TO EXPERT IN CERTIFIED QUANTITY SURVEYOR. DON'T MISS THE OPPORTUNITY!!
Get Enroll