Internationally Recognized & Accredited | Engineering Courses In Dubai| Registered Training Provider In Dubai Since 1995 | Enquire Now @+971-42809955
Internationally Recognized & Accredited | Engineering Courses In Dubai| Registered Training Provider In Dubai Since 1995 | Enquire Now @+971-42809955
Internationally Recognized & Accredited | Engineering Courses In Dubai| Registered Training Provider In Dubai Since 1995 | Enquire Now @+971-42809955
THIS COURSE IS FOR YOU IF…
You want to enroll in a UK Qualification to pursue an undergraduate degree but English is not your first language.
You have completed high school , but you lack the credentials to enroll directly in a UK university program.
You have discontinued your high school education and are willing to take up your degree course.
Introduction To ASTI Foundation Programme In Dubai
INTERNATIONAL FOUNDATION PROGRAMME 
The foundation course is a special curriculum designed to get students ready for entering the UG program after their high school education. The Foundation course gives students the chance to evaluate their knowledge and aptitude in the sector of their choice while concentrating on growing and updating their skills. When they begin their UG course, these steps are essential.
The Foundation Program is equivalent to Year 12 and prepares you for entry into first-year degree studies. The majority of the subjects in foundation courses are designed to advance students' knowledge and abilities in order to better prepare them for their degree programs. The subjects are determined by the students' areas of specialization. It will cover interpersonal communication skills, language development skills, and other abilities that may be necessary for a smooth transition into a degree program. You can study whenever it's convenient for you to finish the 6-month program.

Why Choose ASTI For Foundation Program?
ASTI Academy, is a leading technical training institute in Dubai for higher educational qualifications. Our degrees are globally recognized and our world-class UK curriculum is created to get you ready for the careers of the future. You can start your undergraduate studies and finish your Foundation Program in six months, which is sometimes more than a year sooner than if you had finished high school. This provides you a year's head start in both your academic career and future career.
We have changed the lives of over 300,000 students since 1995. Now it's your turn!
Experience Excellence with Level 3 Foundation Programs in Dubai from ASTI
Explore ASTI Level 3 Foundation Programs
Our Recognition & Accreditation
Satisfied Students & Their Stories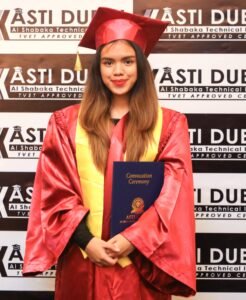 "During my studies at ASTI, all of the teachers were really helpful and friendly. They have deep knowledge in their respective fields and their teaching method is also very good. There are no examinations, and we get our credit scores based on our assignment which is a great initiative.
"At ASTI, I had the chance to engage in various practical and theoretical practices. The professors here are really helpful as always and the units were thought well. I would recommend this institution to anyone who has the passion and interest in becoming a valuable individual in life.
Enter your information here to receive information from our student advisor about our most recent course offerings, scholarships, events, rankings, eligibility requirements.