These Diploma courses have been developed to provide learners an opportunity to gain a fully Accredited Higher Education qualification.

Enquire Now
Regular / Weekend Classes
Explore ASTI Level 5 Engineering Programs
Build The World of Tomorrow! | Study Higher International Diploma in Dubai at ASTI Institute – Since 1995
ASTI Academy, which is situated in the center of Dubai, has been recognized as the top technical training institute in the UAE for vocational and technical training programs. Our Level 5 engineering courses place a strong emphasis on project-based learning, providing you with numerous opportunities to collaborate in teams on projects from conception to completion.
You will gain hands-on experience using engineering principles to solve problems in the real world, work in diverse teams to improve your interpersonal skills and get ready for a crucial part of modern engineering practice. We will provide a stimulating environment with lots of opportunities to collaborate with your colleagues, enhance your creativity and develop the attributes you need to stand out from the crowd.
Our Diploma Engineering courses encourage students to develop problem-solving skills, sound design practice and applied study, all of which are highly valued by employers.
Why Choose ASTI For Level 5 Engineering Programs In Dubai?
Our Level 5 higher international diploma in engineering program is intended to encourage career progression for people already employed in engineering as well as for those who want to advance their knowledge and skills and work in this industry. It is for this reason that a large number of our alumni have gone on to launch highly successful careers in a wide range of industry positions, in fields ranging from development or design and performance engineering to automobile marketing.
For more than 27 years, we have assisted more than 20,000 students in pursuing higher education without having to compromise their professions.

Our highly qualified academic counselors are committed to helping you select the degree that best fits your professional goals, financial situation, and personal requirements.

ASTI offers exclusive grants and scholarships for certain to students with exceptional academic or leadership experience.

We give end-to-end support, from application to graduation, ensuring you graduate successfully with your chosen degree.

We carefully choose our courses to guarantee that students only receive UK degrees that have a history of being created specifically for online and distance learning.
We have changed the lives of over 300,000 students since 1995. Now it's your turn!
Our Recognition & Accreditation
ASTI Academy is Recognized & Accredited by the Government of Dubai, KHDA,  Ofqual, and multiple global educational legal bodies, proving government-approved vocational educational qualification programs in Dubai.
Satisfied Students & Their Stories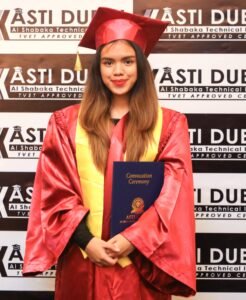 "During my studies at ASTI, all of the teachers were really helpful and friendly. They have deep knowledge in their respective fields and their teaching method is also very good. There are no examinations, and we get our credit scores based on our assignment which is a great initiative.
"At ASTI, I had the chance to engage in various practical and theoretical practices. The professors here are really helpful as always and the units were thought well. I would recommend this institution to anyone who has the passion and interest in becoming a valuable individual in life.