Internationally Recognized & Accredited | Business Management Courses In Dubai| Registered Training Provider In Dubai Since 1995 | Enquire Now @+971-42809955
Internationally Recognized & Accredited | Business Management Courses In Dubai| Registered Training Provider In Dubai Since 1995 | Enquire Now @+971-42809955
Internationally Recognized & Accredited | Business Management Courses In Dubai| Registered Training Provider In Dubai Since 1995 | Enquire Now @+971-42809955
Level 3 Foundation Diploma In Business
The foundation course can be viewed as a pathway from high school to college and university. It serves as a significant introduction course that gets students ready for their undergraduate studies.
Enquire Now
About Level 3 Diploma In Business
The ASTI Academy offers a full-time / Part time and flexible business diploma program that covers the fundamentals of the sector. It offers chances for project-based learning, which is beneficial for students who want to pursue higher education. The course also helps students comprehend different business sectors, and it encourages them to find undergraduate programs that would make it easier for them to pursue their desired careers.
Who Is This Programme for?
This UK Level 3 Business qualification was developed with the student demographic of 16 to 19-year-olds in mind who are interested in pursuing a career in business, primarily through higher education.
Top Skills you'll Learn After Enrolling Level 3 Diploma In Business From ASTI ,Dubai
Critical thinking and problem-solving, innovative problem-solving, the capacity to approach both known and unknown problems.

Application of technology and resources currently accessible for education and development, interpersonal abilities like cooperation and communication independent expansion and development

Negotiating and appealing skills resilience and the ability to adapt to changing circumstances
Download The Business Diploma Course Brochure
Why choose ASTI For Diploma In Business?
This level 3 business diploma from ASTI Academy, Dubai, will hasten your journey to success. Students can transfer to more than 200 universities globally with this degree at the UK level. This certificate, recognized worldwide as a solid university foundation program, is comparable to three "A" levels and ensures admission to the first year of a bachelor's degree program in various business-related specializations. Students gain a solid foundational understanding of various business concepts and methods, preparing them for prospective employment or further study at reputable universities throughout the world.
This program is intended to provide you with the skills you need to be successful in the business world and is a crucial component of the Diploma of Business. Students pursuing a diploma in business from ASTI Academy will be equipped with the knowledge and abilities necessary to thrive in the current international business environment. Students will learn how to do data analysis and come to well-informed conclusions based on their results in addition to improving their language comprehension and communication abilities.
Advance Your Career With UK Accredited diploma in 6 months From ASTI Dubai!
Explore ASTI Business Diploma Programs
You'll be guaranteed a place in the following degrees if you complete ASTI Business Foundation Program
Diploma In Business Management
This UK qualification program prepares you to be successful in a constantly changing environment, offering the tools you need to keep growing and developing as a successful professional in the global business world.
 Diploma In Business Administration
ASTI level 5 business administration program aims at enabling exceptional learning experiences to help prepare students with analytical decision-making capabilities that aim to influence the business practices of tomorrow.
 Diploma In Hospitality & Tourism Management
This program combine practical experience with academic understanding to help you succeed in the travel, tourism, and hospitality industries. 
Our Recognition & Accreditation
ASTI Academy is Recognized & Accredited by the Government of Dubai, KHDA,  Ofqual, and multiple global educational legal bodies, proving government-approved vocational educational qualification programs in Dubai.
Satisfied Students & Their Stories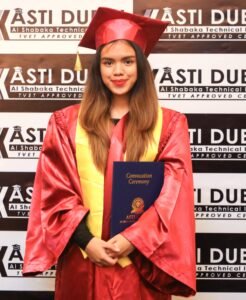 "During my studies at ASTI, all of the teachers were really helpful and friendly. They have deep knowledge in their respective fields and their teaching method is also very good. There are no examinations, and we get our credit scores based on our assignment which is a great initiative.
"At ASTI, I had the chance to engage in various practical and theoretical practices. The professors here are really helpful as always and the units were thought well. I would recommend this institution to anyone who has the passion and interest in becoming a valuable individual in life.
Enter your information here to receive information from our student advisor about our most recent course offerings, scholarships, events, rankings, eligibility requirements.