Internationally Recognized & Accredited |Information Technology Courses| Registered Training Provider In Dubai Since 1995 | Enquire Now @+971-42809955 |
Internationally Recognized & Accredited |Information Technology Courses| Registered Training Provider In Dubai Since 1995 | Enquire Now @+971-42809955 |
STUDY MODE
 On Campus / Offline
Introduction To Information Technology
Studying IT courses in Dubai provides students with access to a growing job market and opportunities for career growth. Additionally, Dubai's multicultural environment allows students to learn and work with people from diverse backgrounds, enhancing their cultural awareness and ability to work in a global context.
ASTI IT courses are designed to provide students with hands-on experience and real-world knowledge, preparing them for the challenges of the tech industry. Also, ASTI offers a diverse range of IT courses, including programming, web development, cybersecurity, data science, artificial intelligence, and more. By choosing to study IT courses in ASTI Dubai, students can gain a competitive edge and invest in their future.
Apply Now
Why choose Information Technology Courses In Dubai?
The IT industry in Dubai is rapidly expanding and there is a high demand for skilled professionals. Pursuing IT courses in Dubai can offer excellent job opportunities in the region. Overall,  IT courses in Dubai  offer excellent education, exposure to advanced technology, and access to job opportunities in a growing industry.
Also, Dubai is known for its advanced infrastructure and technological advancements. Pursuing IT courses in Dubai can provide access to the latest technologies and cutting-edge tools. Also, it offers the opportunity to work with and learn from people from different backgrounds and cultures.
Why Choose ASTI For Information Technology Courses In Dubai ?
Quality of education
ASTI is a renowned institution with a strong focus on providing high-quality education. The IT courses offered at ASTI Dubai are designed to provide students with a comprehensive understanding of the latest technologies and trends, as well as the practical skills needed to succeed in the industry.
Experienced faculty
 The faculty at ASTI Dubai are highly qualified and experienced in their fields, with many of them having worked in the industry before joining the university. This ensures that students receive a well-rounded education that combines theoretical knowledge with practical experience.
Industry connections
ASTI Dubai has strong partnerships with leading IT companies in the region, which provides students with opportunities to network with industry professionals, attend guest lectures, and participate in internships and other industry-focused programs.
Global recognition
 ASTI, Dubai which is a globally recognized institution. This means that students who graduate from ASTI Dubai will be recognized worldwide, providing them with greater opportunities for career advancement and further studies.
Convenient location
ASTI is located in heart Of Dubai, which is a hub for educational institutions and technology companies. This makes it a convenient location for students who want to pursue IT courses in Dubai.
.
Guaranteed Career Growth
ASTI courses offers its learners the opportunity to develop new skills and thereby paves a clear path for career growth and take control of your career success!!
Who Is This Programme For?
IT courses can be for anyone interested in learning about information technology, computer systems, and software development. They are typically designed for individuals who want to pursue careers in fields related to information technology, such as computer programming, web development, cybersecurity, data analysis, network engineering, and database management.
How To Apply
Please fill out the application form here to apply for the Government of Dubai Accredited Information Technology Courses from ASTI Academy, Dubai.
Enroll Now
Our Recognition & Accreditation
ASTI Academy is Recognized & Accredited by the Government of Dubai, KHDA,  Ofqual, and multiple global educational legal bodies, proving government-approved vocational educational qualification programs in Dubai.
Information Technology Career Pathways
Software developer
 Software developers design, develop, test, and maintain software applications. They may specialize in specific programming languages, operating systems, or platforms.
Cybersecurity professionals
Cybersecurity professionals are responsible for protecting computer systems, networks, and data from unauthorized access, theft, or damage. They may work as security analysts, penetration testers, or security architects.
Network administrators
Network administrators design, implement, and maintain computer networks. They are responsible for ensuring that networks are secure, efficient, and reliable.
Database administrators
Database administrators manage and maintain databases, ensuring that data is stored and retrieved efficiently and securely.
EMPOWER YOUR FUTURE IN THE TECH INDUSTRY!!!
Unlock Your IT Potential with Top-Rated IT Courses in Dubai With ASTI!!!
Get Enroll
Satisfied Students & Their Stories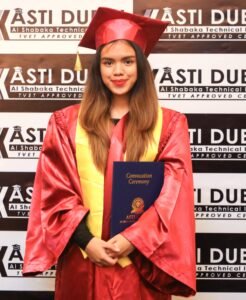 "During my studies at ASTI, all of the teachers were really helpful and friendly. They have deep knowledge in their respective fields and their teaching method is also very good. There are no examinations, and we get our credit scores based on our assignment which is a great initiative.
"At ASTI, I had the chance to engage in various practical and theoretical practices. The professors here are really helpful as always and the units were thought well. I would recommend this institution to anyone who has the passion and interest in becoming a valuable individual in life.